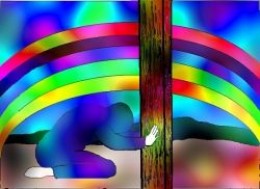 Forgiveness is not an option is a statement that bears the need to repeat. God commands us to forgive in more than a hundred instances throughout the bible. In one moment Jesus is telling the disciples to forgive seventy times seven (Matthew 18:21-35). In another he tells them to be kind to one another, forgiving one another, even as He has forgiven them (Ephesians 4:32). In still another Jesus says to bless those who persecute them and not curse them (Romans 12:14). In none of these instances does the Lord say anything about "if you want to" or "if you feel like it" and yet God gives to us in this life, and eternally, based on the fact that he gives us our freedom to choose death or to "choose life" (Deut 28).
Forgiveness to many is based upon how they feel about the offense and is determined by the severity of the offense as well. "But you don't know what they did.." is one of the most common responses to the topic of forgiveness, or "I won't give them the satisfaction of it.." Most do not understand that forgiveness has nothing to do with how they feel but everything to do with choice, the effects of that choice upon their own lives and their spiritual growth and destination. Just as it has been said that love is a choice, so it follows that forgiveness is a choice also. God expects us to choose in accordance with what he commands us in his Word.
So, if we are to choose the action of forgiveness, how does one get past all those hurting feelings that are wrapped up in such a choice. What is it that we are choosing anyway? It is simple but hard. The feelings of offense are very powerful. Make no mistake about it. We, in and of ourselves cannot do this. This is truly one of those times that we have to rely upon the Lord and His power. He says that when we are weak, then in Him we are strong ( 2Cor 12:10). There is direction for this in the Word as well. Jesus says in Philippians 4:8 to think on these things..whatever is pure, lovely, excellent, commendable, worthy of praise. In Deut 28 He tells us to choose life. So whenever the thoughts turn to the offense and the pain it causes, make the choice to turn the thoughts to that which is good in God's eyes and in accordance to His Word.
Apowerful prayer for this can be "Lord, I choose as an act of my will to forgive so-and-so ( him or her or them) for whatever the offense is and I ask you to make it real and genuine in my heart". This sometimes may need to be repeated many times unto feeling as if it were constant and even turning the mind to actually praying for the one who did the offense. This act takes ones mind off the offense and onto the Lord and lines the heart up with obedience to His Word. God blesses obedience (1 Samuel 15:25) and with diligence and in time His power truly causes the heart to "remember with peace".