I am one of those women who never lost my love of dolls and I met with profound opposition to "play" with them throughout my life.
As  a child..every doll I ever had was either lost..stolen..damaged by someone and then tossed..or I was told by age 11 that I would never have another doll because I was too old to be playing with dolls. Even though I continued to love them I fought with myself because it was NOT OKAY !!
So..40 some years into my married life I began to collect them. I must say that it was interesting how people came out of the woodwork to smirk..frown or look with raised eyebrows..and even Christians who used words like hoarder..kitch (meaningless..garish art collection that appeals to those of uncultured taste) or..being more Kingdom-of-God-minded would be more important in this world right now.
As  I continued to grow in my relationship with Jesus..I found that it was His pleasure and purpose for me to have them. I also came to realize that the love of a doll like I had was a gift ! A gift for many reasons for sure but the only ones to mention here would be the fact that the Kingdom of God requires that we believe in Him and His promises with a child-like faith..AND..it can also take one on a path of..as Elinor Peace Bailey says..healing from a great deal of trauma or abuse in the formative years.
By  September of 2015 I had joined several doll groups online to share this love of dolls with the only ones I found besides God who really understood. It was a blast sharing photos of our newest acquisitions or a new outfit we made for them.
THEN CAME A SALVAGE YARD ORPHAN
I began to take the older used dolls from the 1950's and restore them with new wigs..clothes..good cleaning..and a dab of fresh makeup. A friend I knew in one of the doll groups lived in New York. When she saw my restoration of other dolls she asked me if I would like a doll that had been given to her at work. She worked for a wrecking yard for old cars and one of the guys there found an old doll inside one of the cars that was about to be demolished. They knew that she "played" with dolls so they asked her if she wanted it. She sent it to me for the cost of the shipping !!
Sweet Sue came to me measuring about 20 inches in height. I couldn't have been more thrilled when I opened up that box and saw her standing there. She was so beautiful to me !! I immediately began to go to work on her for a restoration that would prove to be astonishing !!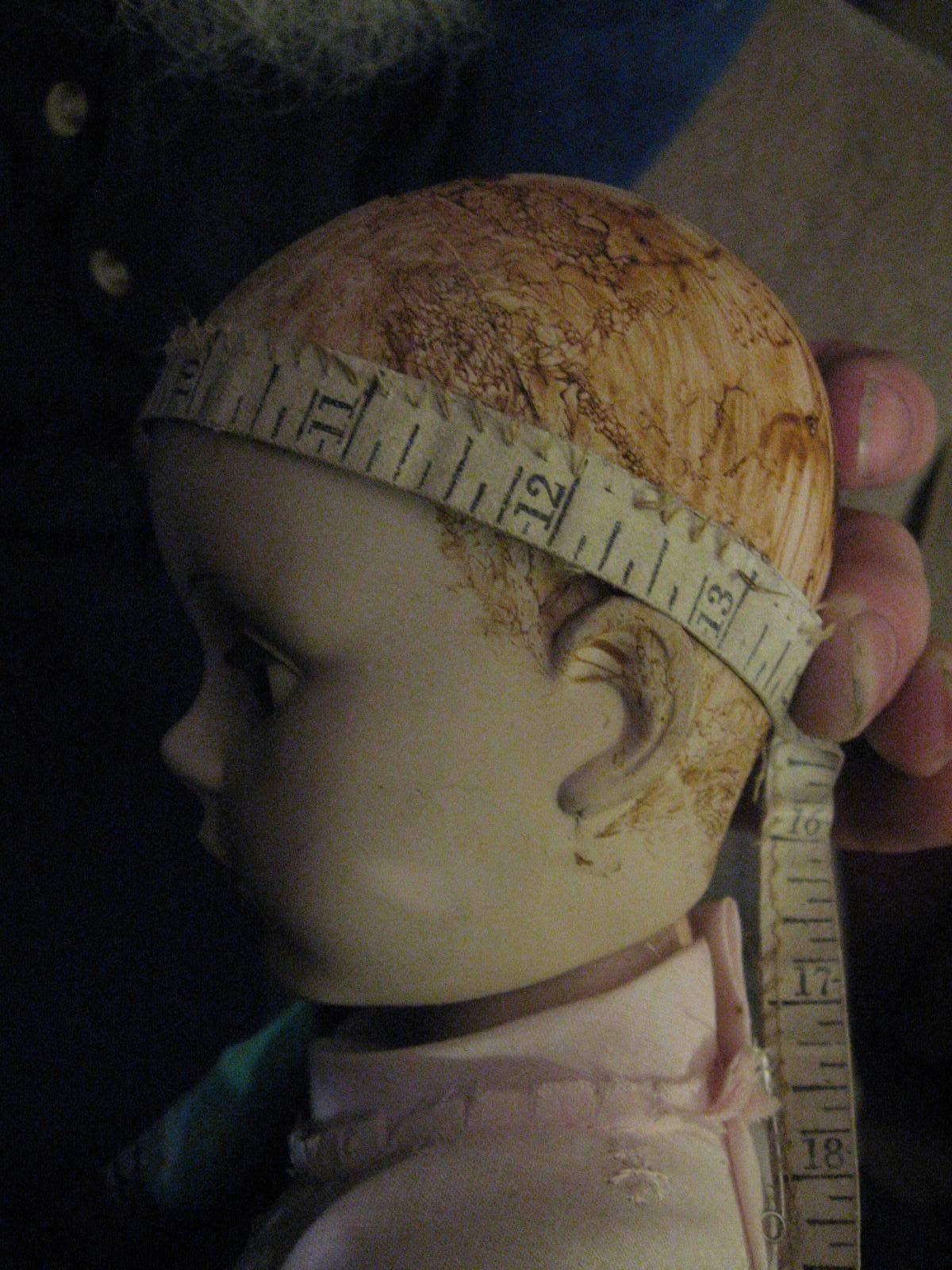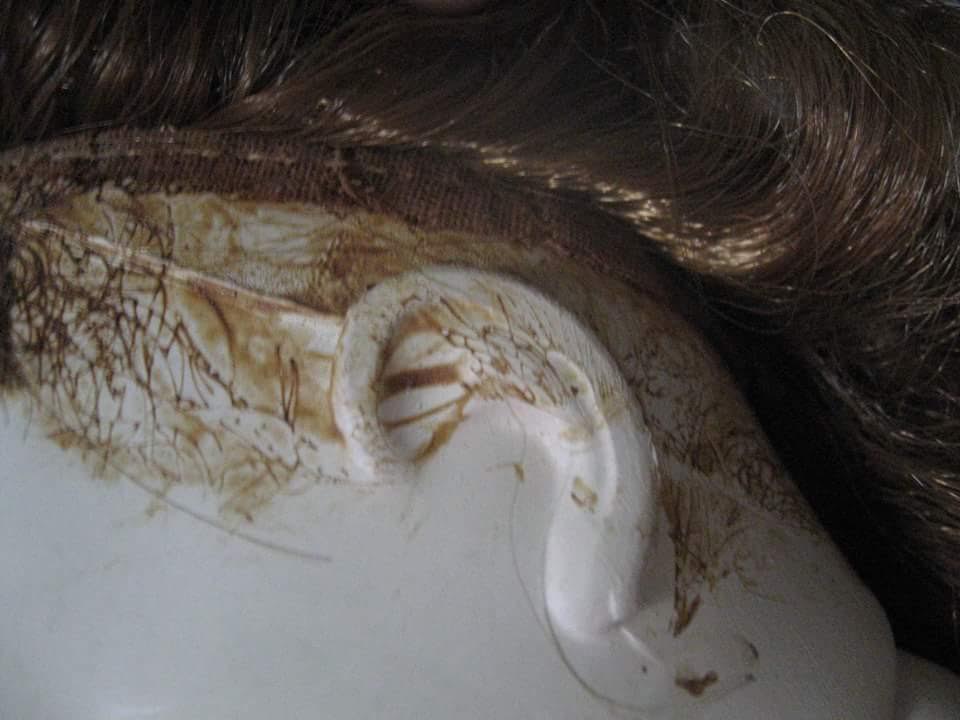 First..off came the clothes and the wig. You can see from a clear spot on her cheek above she was completely grimy and dusty with dirt and oils. Her cloudy eyes made her face appear to be sullen..sad and dreary. The wig was a challenge because of that tobacco-spit-looking glue that was all over her head. Whoever did it got it all over her ears so I had to soak the glue with a cream doll cleaner and used a hook-knife used in ceramics to scrape it off..without scraping the surface of her skin on the ears or her face. I had to literally scrub her with the doll cleaner over and over to get through all the layers of grime so as not damage the surface of her body. Within 24 hours of what felt like a fever-run of intensity she was finished ! I didn't have to buy one thing to finish her. I used her own bloomers and everything else I had in my own doll stash of supplies. I made the crystal necklace and added makeup to her face with pastels and acrylic for the lips to bring back the glow to her face and skin. 
Iwanted to give her a name that was a derivative of Sarah..wife of Abraham. 1Peter 3 speaks a great deal about the authority of wives to their husbands. It also says that we are Sarah's daughters if we do what is right without fear of what our husbands might do. My choice for the name of Sarah was SALLEE..she looks like a Sallee.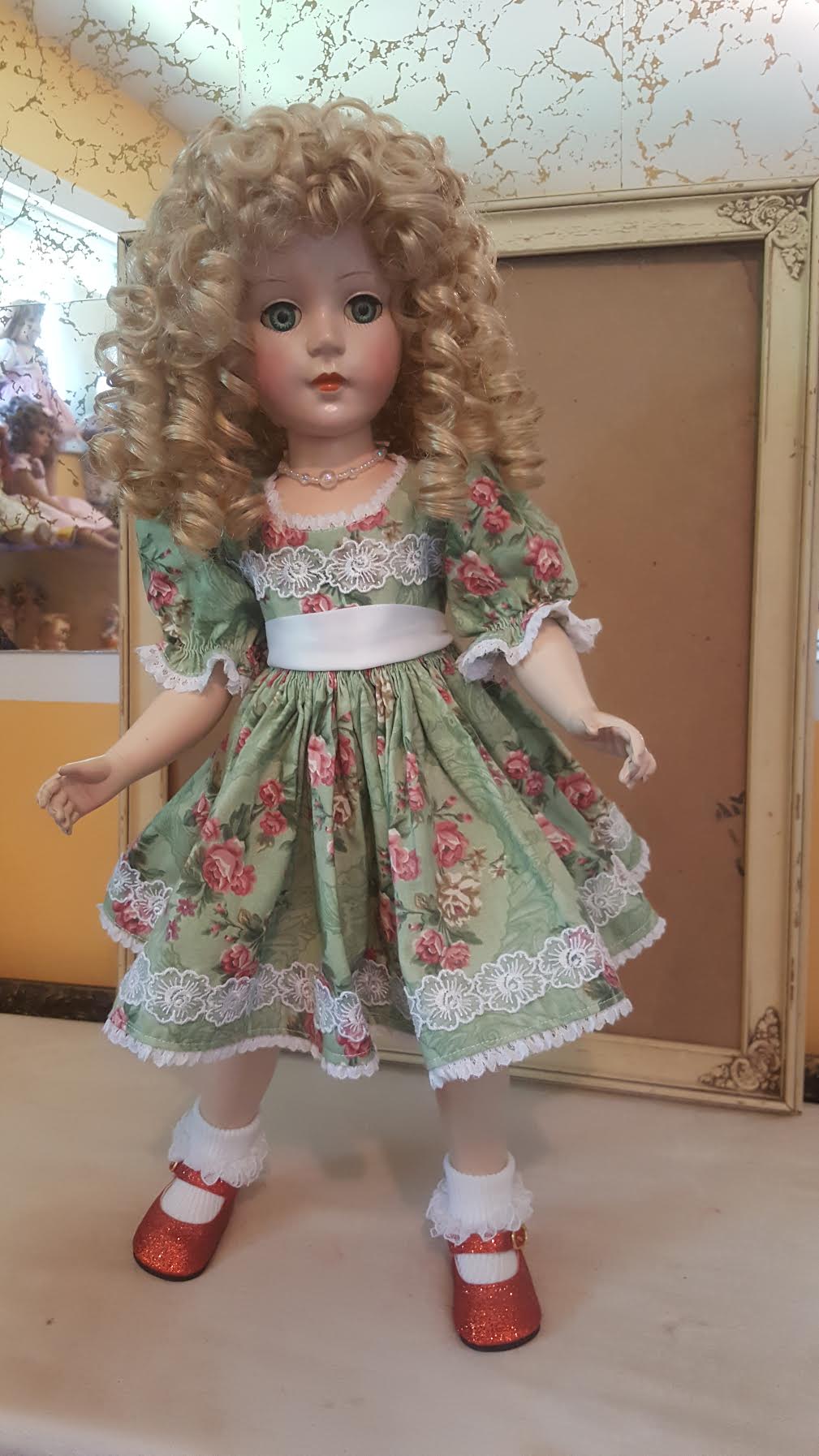 NOW..WHY THIS STORY ??
The whole time I worked on the transformation of this doll..I kept telling the Lord that He was in it. I had never gone after a completion of a doll that quickly before. When she was finished I just stared at her. I told the Lord that she was absolutely stunning!! Lord, I can't take my eyes off of her !! 
THAT was when He spoke to me:
That is EXACTLY how I feel when I look at YOU !! When you came to me all those years ago and I filled you with my Holy Spirit all the dirt and grime put upon you by life and sins disappeared and you were alive to Me !! You have had crimes committed against your soul and body but you are STUNNING TO ME FOR YOUR DEEP LOVE OF ME and your willingness to keep working on your sin-habits. I gave you this moment to show you how I see you and feel towards you so that you can better WALK that image before me and so that you can function better because of the beauty I see. On your worst day..I see you this way. I truly need for you to respond to Me and the days I am giving to you AS IF NOTHING EVER HAPPENED TO YOU. It's okay to remember..to see how far I..your Lord..have brought you.. but not okay to walk in the pain and guilt and shame of what was done to you. You have forgiven all..now walk in the joy of my love and brightness towards you. You are healed..and new..and I have plans for you !! I need you to stand in the beauty and joy I have in my heart for you..for you to be able to complete the days I have set before you. Yes..you have an enemy that works diligently to bring you under the shame of your childhood and to pile guilt upon you for every little thing you do from your flesh but all I require of you is to confess those things..and let them go..as I  do the moment you ask. I am requiring you to let go of your inabilities and trust me to work through you. I ADORE WEAK VESSELS !! DO NOT CRY OVER YOUR FAILURES. Let me wipe them off from the sincerity of your heart so that you can move back into the light I shine on you and from within you. I am strong when you are weak..This Lion of Judah will indeed take over and be your strength to carry on. DO NOT GIVE UP !!  I LOVE YOU..MY BRIDE..Let me love you unto victory and the joy I intend for you to have in your heart. Let My Love for you draw you away from your sin-habits to fulfill My Word..It is not by your might nor by your power that these things can be done but by My Spirit. I adore you and you can never do anything from your heart of love to disappoint me.
WALK IN THAT LOVE MY BRIDE !!
WOW !! The Lord told me years ago..This is how I look at you ! But this word today is FRESH. It is speaking to me all over again with a great deal of expansion..depth and prophecy with it !!  It is for a greater purpose than just for me ! I HAVE been coming out from under all that pain and guilt and shame that the enemy so cleverly leads us into..like a cloak he throws upon us whenever anything comes our way to hurt us ..sometimes relentlessly to break us down. I HAVE been discovering the freedom we have because of the gospel. God holds no disappointment or impatience with us. Freedom is not only that the sin is washed away but the guilt the enemy would lay upon us is washed away as well !!  Especially when the enemy has a habitual tie to us to bring it..from the past..but we rise up and cast it off and say NO MORE!!
NOW..all of this is also for every lover of Jesus Christ ! The GOOD NEWS of the gospel affords every Grace and Heavenly blessing to each soul who says YES..Let it be done unto me according to your will. We are headed into days whereby we will need to cling to Christ..the lover of our souls..and be able to shut out or cut loose from the world more than ever to hear him whisper to us. It is like walking with your Bridegroom as you lean in to each other oblivious to all else waiting for your LOVE to speak. Dependent upon Him and only Him for all that you say and do.